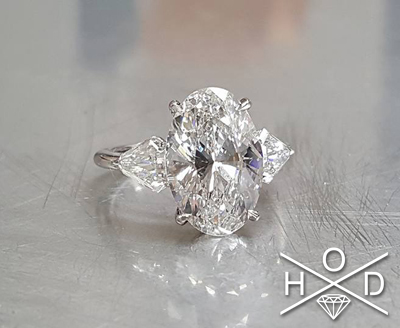 Searching for custom handmade diamond rings in Scottsdale, Arizona? Our jewelers are the best in the business.
Have you thought about having a custom diamond ring made but thought you couldn't afford it? Get it designed & created for the same price as a premade ring!
Call (602) 283-5570.
Partner with the jewelry experts in the local area for custom diamond rings made to last. Not only do we offer affordable prices, but we also offer professional service. Contact us today and see how we can find the perfect piece for you!
Custom Handmade Diamond Rings Scottsdale AZ
Make an impression with one of our custom handmade diamond rings in Scottsdale, AZ. Our breathtaking gemstones are handmade to your liking. Plus, we only deal in Kimberly Process diamonds. This means you get gorgeous custom diamond rings with none of the guilt or conflict.
Your wedding is something you and your loved ones will remember forever. Why not have a piece of jewelry to match? If you want to find quality custom wedding rings near Scottsdale or Phoenix, look no further. We have five decades of experience and a professional team of experts at the ready. Invest in exclusive, custom diamond rings that are sure to enhance your love life. Make them say "wow" when you pop the question. Contact us today for help!
Custom Diamond Ring Designer
When you're ready to pop the question, give us a call. We're the leading custom diamond ring designer in Scottsdale. With a solid reputation and a talented team, our talented jeweler is your best choice.
We offer large diamonds, unique gemstones, and affordable prices. Visit the custom diamond ring designer you can trust. We can help you craft a ring that's made to last and make an impression. Don't choose any diamond ring off the shelf. Contact us to design your very own custom diamond rings!
Give us a call or contact us online for a custom estimate. You can also drop by in person to see our exclusive, precious stones. We'll help you design a stunning ring that will be a perfect fit for your loved one. Contact us, your local custom diamond ring designer, today!
Visit us in person or contact us online for more information! Our experts are ready to help you make memories. We are also known for providing a huge selection of high-quality lab-grown diamonds.
We provide custom handmade diamond rings in Scottsdale, Phoenix and the surrounding areas.